Sponsors

Sharron McCarthy, VP of Wine Education
at Banfi Vintners and Past President of the U.S. Society of Wine Educators, is a wine industry legend. Over the past three decades, this lively, engaging, articulate woman has traveled th eworld, sharing with others her boundless knowledge and enthusiasm for the joy of wine.
From wine clubs and consumer groups, to law firms and Fortune 500 companies, to hospitality and grad students at some of America's most prestigious centers of learning, to floor staff at wine stores and restaurants, in addition to frequent appearances on radio and TV, Sharron is in constant demand as one of teh wine industry's most popular and effective guest speakers.
In 2015, Sharron was recoginized by the Italian Trade Commission and the Italian Consul General of Italy for her efforts on behalf of her service and visionary approach toward Italian wines and her decades-long efforts to promote Italian wines in the United States. Sharron was inducted into the Wine of Italy Hall of Fame to honor her as a goodwill ambassador for Italian wines and her dedicatyion to the country of Italy and to the Italian way of life. Sharron is a great supporter of the AWS and is one of our most popular presenters at the annual conferences.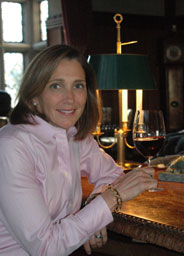 Virginia Mariani-Kitt, Director of Hospitality, Banfi Vintners
Virginia Mariani-Kitt is a family proprietor of Castello Banfi, Tuscany's most honored vineyard estate, and director of hospitality for Banfi Vintners, America's leading wine importer.
The firstborn child of Banfi President Emeritus Harry F. Mariani, Ms. Mariani-Kitt, along with her brother James Mariani and cousin Cristina Mariani-May, represents the third generation of family leadership in the company founded by their grandfather, John F. Mariani, Sr., in 1919.
Upon graduation from the School of Hotel Administration in 1982, Ms. Mariani-Kitt joined Banfi's in-house public relations department to help promote the company's wines to trade and media before transitioning into the national sales division, where she developed Banfi's presence in hotels and restaurants across the United States. She subsequently served as marketing manager for the premier wines of Castello Banfi and in 1993 assumed her current role as hospitality director for the company's headquarters in Old Brookville, NY.
At "Banfi Old Brookville," a 60-room Elizabethan manor set in Long Island's famed "Gold Coast," Ms. Mariani-Kitt shares her passion for food and wine by hosting wine-themed dinners and planning the family's business functions, including preparation of menus and wine pairings for in-house meals with trade press and dignitaries. She currently resides in Cold Spring Harbor, NY, with her three children and husband (and fellow Cornell graduate) Errol Kitt '81.